How transplantation can help employers better care for the planet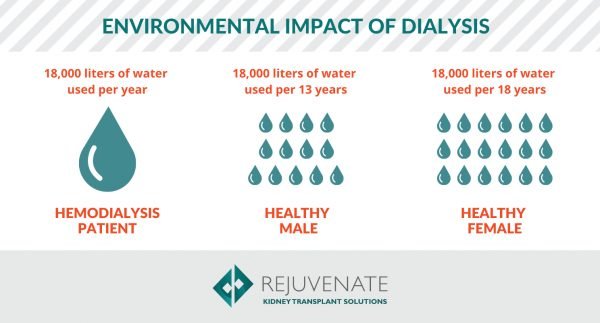 Benefits managers who invest in transplantation not only provide better care for their employees but also better care for the planet.
Today in the United States, one in seven adults is living with chronic kidney disease. As this disease progresses, these patients will find themselves with only two options to survive: dialysis or a kidney transplant.
Transplantation is widely recognized as the best care for these individuals, as kidney transplant recipients are not only healthier than those on dialysis but also live an average of ten years longer.
"Dialysis keeps you alive, but it's a difficult and dangerous process," says Dr. Al Roth, Nobel Prize winner and co-founder of Rejuvenate Kidney Transplant Solutions. "Every year, thousands of people die on dialysis. Transplantation is much cheaper than dialysis, and it's also much better for the patient."
It's also the most sustainable care.
Dialysis, particularly hemodialysis – a procedure in which a dialysis machine and a special filter are used to clean a patient's blood, has a large environmental impact. To work effectively, this process uses large volumes of water, medical supplies and energy.
According to a study presented at the 2016 meeting of the American Transplant Congress, a patient undergoing weekly hemodialysis treatment uses about 800-925 kilowatt hours and 18,000 liters of water a year.
Using guidelines provided by the National Academies of Science, Engineering and Medicine, that same amount of water could provide drinking water for one man for over 13 years and over 18 years for one woman.
Considering that as of 2016 at least 450,000 people in the U.S., alone, received hemodialysis, the impact on the environment is staggering – but not without hope.
This same study determined that over a 15-year period, increasing access to transplants could reduce overall environmental impact by 95.7% compared to hemodialysis.
Since its founding in 2016, Rejuvenate Kidney Transplant Solutions has helped thousands of people overcome barriers to transplantation. Using a Nobel Prize-winning data-driven process, Rejuvenate identifies kidney failure patients earlier and gets them transplanted faster, resulting in significant cost savings for employers and a better quality of life for their employees.
Rejuvenate's process also helps employers do their part to protect the environment.
"There's a real win-win here to get your employees who need a new kidney, a new kidney," says Roth.
"Rejuvenate was created so that we had a solution for employers that allowed them to reduce healthcare costs, deliver better care for their employees and demonstrate to their employees that they care," says Dr. Mike Rees, a kidney transplant surgeon and co-founder of Rejuvenate. "We can deliver better quality care, at lower costs, that gives people better access to the care they need."
Learn more about how Rejuvenate can help your team cut costs, save lives and better protect the planet by scheduling a needs analysis today.
—
To learn more about research on the environmental impact of dialysis vs. transplantation, read the 2016 ATC abstract.