Leveling the playing field for kidney transplants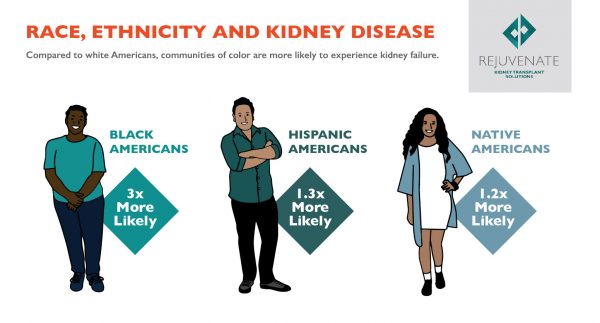 Each August, individuals, businesses and organizations across the country recognize National Minority Donor Awareness Month, a collaborative effort to save and improve the lives of diverse communities by creating a positive culture for organ, tissue and eye donation. As part of this effort, the movement highlights disparities that persist in the field of organ donation and transplantation.
The need for transplants is more pronounced in communities of color, where disproportionately higher rates of diabetes, high blood pressure and heart disease can contribute to organ failure, especially kidney failure, also known as End-Stage Renal Disease or ESRD.
According to the National Kidney Foundation, Black Americans are three times more likely than white Americans to suffer from kidney failure. Hispanic individuals are 1.3 times more likely to experience kidney failure and Native Americans are 1.2 times more likely.
"While the burden of ESRD can vary between companies, the more diverse your workforce, the more likely you are to see a higher proportion of employees with kidney failure," says Mark Snyder, chief financial officer at Rejuvenate Kidney Transplant Solutions.
The only cure for ESRD is a kidney transplant, yet there is also a disparity in who receives one. White Americans are nearly twice as likely to receive a kidney transplant than Black Americans compared to the percentage in each waiting group.
A key factor in this ongoing issue is access to resources. For example, it takes internet access and search skills to research the right questions to ask your physician. Additionally, identifying and traveling to a transplant center with the shortest wait list takes time and money.
Rejuvenate Kidney Transplant Solutions was founded to ensure everyone has the same access to high quality care, no matter their race, socioeconomic status or ethnic background.
"Our health care system is hard to navigate no matter who you are, and it can be even harder for diverse communities," says Snyder. "Rejuvenate exists to level the playing field for kidney care."
Using a hands-on approach, Rejuvenate advocates for all employees and dependents of their customers. The team supports patients at every step of the journey, from working with their personal physicians and recommending a transplant center to expediting referrals and evaluations and aiding in the search for living donors.
As a result, Rejuvenate identifies those on the path to kidney failure earlier and helps them get transplanted faster, resulting in significant cost savings for employers and a better quality of life for their employees.
"Employees whose lives are transformed by kidney transplants are more productive and live longer, more fulfilling lives," says Snyder.
"Rejuvenate knows what obstacles you're going to run into on your journey and how to avoid them," he continues. "That's how we level the playing field. Our whole purpose is to help anyone, no matter their background or situation, access a kidney transplant."