One of the world's longest-living heart transplant recipients shares a day in the life of dialysis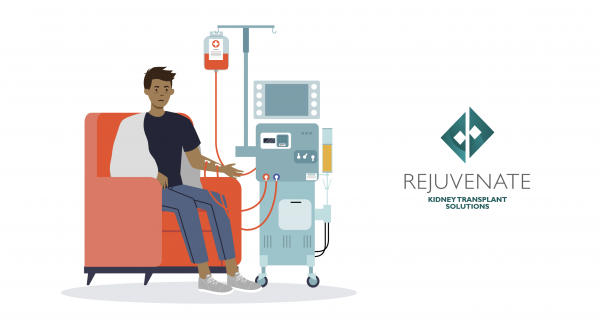 The definition of sick. That's how Simon Keith, a kidney transplant recipient and one of the longest-living heart transplant recipients in the world, describes being on dialysis.
"It's hard to eat properly. It's hard to think straight. Everything is more challenging on dialysis," says Keith.
The former professional soccer player received his first heart transplant at age 21 after being diagnosed with myocarditis, a deterioration of the heart muscle. Keith went on to become the first athlete in the world to play professional sports after a heart transplant – but decades later, he found himself in need of another.
This time, his kidneys were failing as well.
"No matter which kind of dialysis you do – hemodialysis or peritoneal dialysis – your entire lifestyle changes with the loss of your kidney function," says Keith. "I did hemodialysis, and like many other patients, I experienced three to four hours of treatment, three days each week."
Each treatment felt like an assault on his senses, even as it tried to keep his body in balance.
"The building smells horribly," says Keith. "It's freezing cold, and you have to bring a blanket."
Keith says his cognitive abilities declined in the immediate aftermath of each treatment, and there were outward signs of its impact as well.
"I would be so cold, shivering all the way home," says Keith. "My wife would wrap me in blankets and towels she warmed in the dryer. You also want to take a shower or bath because the smell of dialysis stays with you."
Week after week, he says, there was no relief.
"You can gain and lose 12 to 20 pounds over a week, which is really hard on the body." Overall, he says, "It can break a person's spirit."
Keith's dialysis journey came to an end in 2019 when he had a combined heart and kidney transplant. The successful surgery restored his health, gave him the gift of more time with his family and renewed his dedication to helping others in need of organ transplants.
Today, Keith runs the Simon Keith Foundation, which he founded in 2011 to increase organ donor awareness and educate transplant recipients. He serves as founder and CEO of Cambridge85 LLC, an organization focused on delivering unique transplant solutions worldwide, and is the chief operating officer of Rejuvenate Kidney Transplant Solutions.
Since its founding in 2016, Rejuvenate has given hope to thousands of people by greatly reducing the time spent on dialysis.
Using its Nobel Prize-winning data-driven process, Rejuvenate identifies kidney failure patients earlier and helps them get transplanted faster, resulting in significant cost savings for employers and a better quality of life for their employees. Transplant recipients are not only healthier than those on dialysis but also live an average of ten years longer.
Whether you are a benefits manager tasked with helping employees or one of the tens of thousands of people who, like Simon Keith, find themselves suffering from kidney disease, Rejuvenate is here to help. Connect with the team to find out how, today.