Taking the first step to cutting healthcare costs associated with kidney disease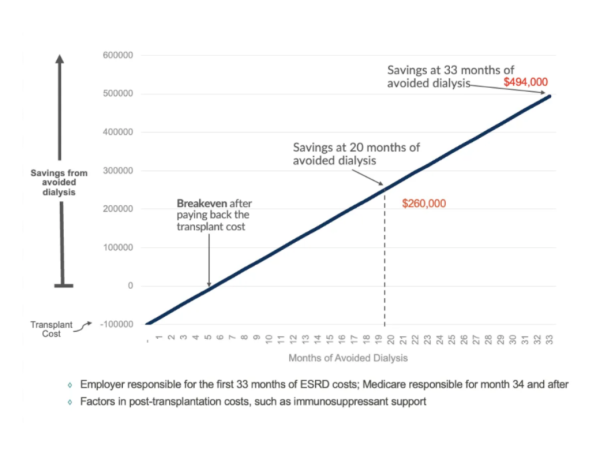 Gaining insights into how to reduce current and future healthcare costs often comes down to knowing how to read between the lines of your medical claims data. It's a nuanced process, as some of the most common and costly conditions, such as chronic kidney disease (CKD), can hide across your budget.
When Rejuvenate Kidney Transplant Solutions reaches out to employer groups, we often hear, "Kidney disease isn't on our radar." Employers point to diabetes or heart disease as bigger pain points, but the reality is that many hospitalizations and comorbidities are associated with CKD.
Current data from the Centers for Disease Control and Prevention says as many as one in three people with diabetes and one in five people with high blood pressure also have kidney disease. As the disease progresses, these patients will find themselves with only two options to survive: dialysis or a kidney transplant.
While dialysis can extend the life of a person with kidney failure, it's far more costly over time. Employers can spend up to a quarter of a million dollars per year, per person with kidney failure versus a one-time charge of $100 to $150 thousand for a kidney transplant. Transplant recipients are also healthier than those on dialysis and have a longer life expectancy.
Rejuvenate partners with companies who self-insure their health plans and want to take that next step to cut healthcare costs and improve their employee experience in terms of health benefits for kidney disease or kidney failure. In short, we're kidney care consultants who use an individualized approach to expedite the path to transplant.
If you are an employer trying to understand if Rejuvenate's program is a good fit for your team, we encourage you to reach out for a free data analysis.
No personal protected health insurance information is shared, but we get a clearer picture of your past, present and future costs associated with CKD.
To learn more and schedule your free data analysis, visit Rejuvenate online at RejuvenateHealthcare.com today.